General garment care advice
It is essential to read carefully the care instructions shown on the garment label.
These care recommendations have been chosen to give the best results in cleaning, drying and ironing. It is important that they are followed to maintain the good appearance and wear life of the garment.
Always wash dark and bright colours before wearing to prevent possible colour rubbing onto lighter garments or skin
Wash dark or bright colours separately to avoid staining of light colours in the wash
For best results do not mix fabrics with different fibre content in the same washload
Wash garments frequently to prevent heavy soiling
If tumble drying is recommended, you should select temperature/cycle duration setting from the wash temperature given on the label, e.g. if washing at 40°C then tumble dry at warm, if washing at 50°C+ then tumble dry at hot. Never overdry, to prevent shrinkage of fabric or garment
100% cotton garments benefit from being pressed whilst still slightly damp
Re-shape knitted garments whilst damp.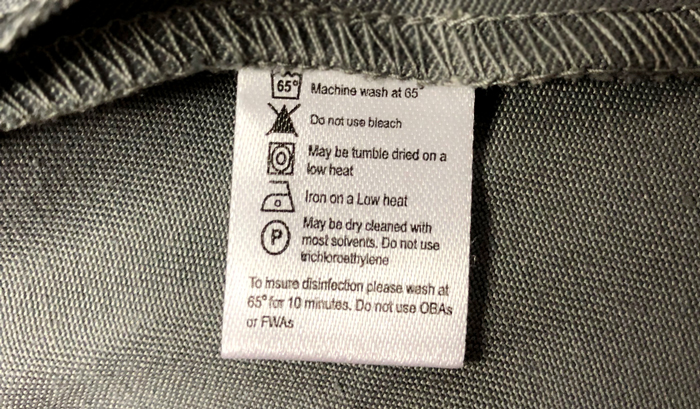 Garment care labels are sewn inside the garment. Please follow the instructions to keep the garments in a good condition.
User Advice for Chef's Clothing
Fit: Our jackets are designed to give the optimum service life if they fit correctly. We have made allowances for wearer movement within the garment to ensure less stress to the fabric and seams during wear. Garments which are undersized are subject to more stress in wear, will be less comfortable and liable to premature failing.
Contamination: If the garment come into contact with acidic chemicals or cleaning agents, this will weaken and remove the cotton content of the fabric. If the garment comes into contact with strong alkalis such as oven cleaner and caustic soda, this will progressively weaken the polyester content. Both will lead to premature failing of the garment and increase the chances of the fabric ripping.
Stain and soil removal: Fatty proteins such as meat juices and associated greases will produce colourless stains which require careful washing. If too much heat is added the stain will set and turn a yellow/brown colour. These stains should be removed on a cool pre-wash no higher than 35° followed by the normal wash at full temperature for the garment.
Bleaching stains is not always recommended as the bleach can reduce the life of the garment. Bleach should only be used to remove stains such as beetroot, blackcurrant, tea, coffee, or red wine for which a low dosage will usually work perfectly.
A cool pre-wash is always recommended for heavily soiled garments.
Pilling and fuzzing: We recommend that like fabrics are washed together. If polyester is washed with a polycotton, the cotton fibres can stick to the polyester giving the appearance of surface pilling. If washed separately, both fabrics will remain looking their best for longer.
If the above instructions are followed then pilling and fuzzing are unlikely to occur.
Fabrics that come into contact with acids, alkalis or incorrect bleaching, will have a tendency to fuzz in that area or even all over the garment.
Footwear: We recommend that all customer's buying footwear, invest in two pairs of shoes. After each use, the shoe should be left for a day to dry out from general wear and use. The shoes should be left to dry naturally without being exposed to heat. Alternating shoes daily, will increase the life span of the shoe as well as decreasing the likelihood that the leather with crack and split. If this is adhered to, then we fully expect each pair to last a year before needing to be replaced.
Washing




Maximum wash temperature advised.

The temperature advised for industrial wash.

The garment should be delicately washed whether by hand or on hand wash cycle.
Special Care

Bleach resistant. The garment colour will resist accidental bleach damage.

Crease resistant. The garment has been treated to make it easy care and resistant to creases.

Suitable for dry cleaning.

The garment has been treated with a finish to help easy cleaning of the garment.

The garment features technological fabric to help keep you dry and cool.

Iron on cool.

Iron on warm.

iron on hot.

Tumble dry safe.

Safe to bleach.

Do not bleach.