MEET THE FRIENDS OF DENNYS
And enter our FREE competition
10 Questions with…..ANALIESE GREGORY  
Renowned global chef, forager, smallholder, diver, and author..
As a Kiwi working at top restaurants in London, France, Morocco, Spain and Sydney, what brought you to the remote Huon Valley in Tasmania?
A longing to return to the kind of lifestyle I had in countryside France when I was working at Bras. Foraging, hiking, swimming in lakes, and just getting outdoors more.


How has foraging changed your life?
It's definitely put me more in touch with nature, with my surroundings, and more aware of the seasons. Also, probably more attentive to the world.


Is there anything you wouldn't eat?
OK I'm not a huge fan of mealworms or any sort of deep fried bug..


Name three of your favourite ingredients right now..
Wakame, crayfish, stone fruit


What's your favourite thing to wear whilst cooking?
A linen t shirt, bandana and chef pants


What's the most important piece of equipment in your kitchen?
Sharp knives, a good solid set of saucepans and cast iron frypans. Also, extra large chopping boards!


What's the best meal you've ever had?
At Elkano in Spain, a whole turbot grilled over charcoal where you eat everything, the skin, the fins, the face...


What's your pet hate in the kitchen?
Spilt milk. And random bench mess.


Who inspired you to start cooking?
My great aunty Fay, she was an excellent Cantonese cook


What's your guiltiest food pleasure?
Eating butter like it's cheese.
Analiese's inspiring book 'How Wild Things Are' is published by Hardie Grant and launches in the UK on 4th March 2021.
For your chance to win a copy, simply follow Dennys on Instagram by 31st March.
Winner will be notified by noon on 5 April 2021.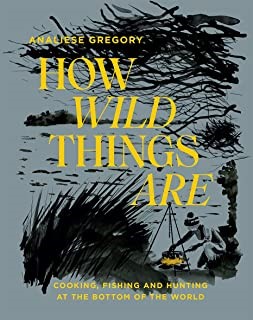 About Analiese
After years of cooking in some of the world's top restaurants, Analiese now lives in the Huon Valley of Tasmania, with only goats, pigs and chickens for company (and a few friends – and many thousands of Instagram followers…...) She forages the sea and land for fresh ingredients and uses her skill and curiosity to create beautiful wild dishes which chime perfectly with the times we are living in.