Professional knives for chefs and cooks
Whether you are a professional cook or a home enthusiast, you need the right tools.
At Dennys Brands, we stock a huge range of the highest quality chef knives from the world's top brands such as GLOBAL, WUSTHOF, I.O.SHEN, VICTORINOX and many others – not forgetting our very own range of SOHO and RIKOU KNIVES.
Don't worry if you don't know which knife to choose, our experienced sales staff will help you find the right knife at the right price. And if you can't get to our shop, we can POST knives to you.
...we help you find the right knife at the right price. Visit us in-store or call 0203 8152900 for an expert chat or if you have any queries regarding our knives.
Sustainability – making your knives last longer 
Our after-sales service is famous. Part of the sustainability movement is to buy well and make things last longer. Dennys offers a while-you-wait KNIFE SHARPENING SERVICE in our Berners Street shop to keep your knives in top condition.
We have a wide range of KNIFE BAGS, SHARPENERS and ACCESSORIES to ensure you have the best quality knife all year round. A wwell-maintained knife stays sharp and lasts longer.
Our own brands - SOHO KNIVES and RIKOU

We speak to chefs every day. By listening to them and working with leading manufacturers, we have produced knives which are perfect for the demands of a professional chef and those of home enthusiasts too.
S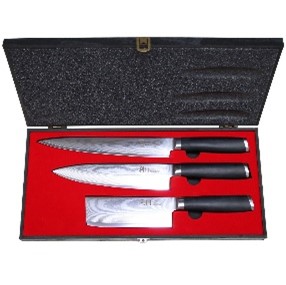 OHO KNIVES - Choose from our very own SOHO KNIVES VALUE RANGE. Made with high-grade steel our knives are Rockwell 50 so they are easy to maintain. soho knives

RIKOU KNIVES – Japanese Damascus Steel Knives at a price you can afford.

Each knife is made from 33 layers of Japanese Damascus steel. The blade is made from premium VG-10, and the handle is made from G10 giving a great balance to the knives which are guaranteed against breakage.

These are a great alternative to more expensive knives. They are beautifully boxed and come as single knives or as a set of 3 or 5. Recommended.

SHOP RIKOU KNIVES  rikou knives' (dennys.co.uk) 
Dennys Brands – our professional knife selection
SOHO KNIVES ● RIKOU ● VICTORINOX ● WÜSTHOF ● K SABATIER ● KAI ● KASUMI ● I O SHEN ● GLOBAL ● LESZEK SIKON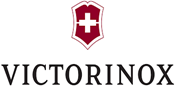 Victorinox is a Swiss brand that started over 125 years ago, making army knives. Victorinox Knives are widely known to be one of the best quality pressed steel knives in the world. These knives are a firm favourite with our customer.
SHOP VICTORINOX KNIVES VictorinoxKnives (dennys.co.uk)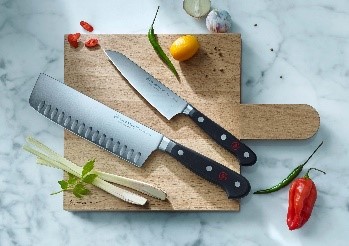 Wüsthof knives are manufactured in Sollingen, Germany by a family-owned business with seven generations operating for over 208 years. The knives are crafted following family techniques and the world's most skilled knife artisans. We stock a wide range of Wüsthof knives including the Ikon and Classic ranges. Shop https://www.dennys.co.uk/catalogsearch/result/?q=wusthof+knives  

K Sabatier started manufacturing handmade kitchen knives, table knives and pocketknives in Thiers, France in 1810. K Sabatier provides high-quality knives used by professionals and households alike. Using traditional techniques for over 200 years - we've handpicked K Sabatier as some of our favourite Carbon Steel knives. Make no mistake: only the "K" followed by the name Sabatier can guarantee that these knives come from the direct descendants of Philippe SABATIER. SHOP K SABATIER https://www.dennys.co.uk/shop-by-product/knives.html?brand=Sabatier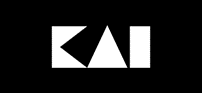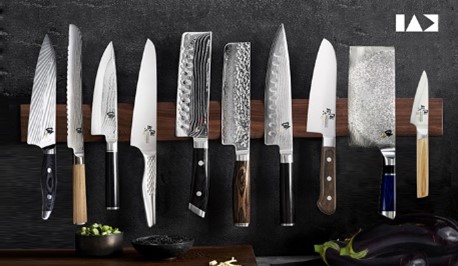 KAI The Shun Classic Series unites centuries-old Japanese Samurai blacksmithing with today's modern and technically sophisticated manufacturing process. KAI products have long had cult status in Japan. Founded in Seki in 1908, the company has developed cutlery and related products of excellent sharpness and function. The result is an exceedingly high-quality range of Damascus knives, engineered with attention to the most minute details and designed to always retain sharpness. The knives are, therefore ,ideally suited for professional use. The Shun Classic blades are gorgeous to look at due to the distinctive semigloss pattern exhibited by the Damascus steel composite comprising 32 layers. SHOP KAI KNIVES kai (dennys.co.uk)

Kasumi Damascus knives are produced using a closely-guarded technique. Using 32 layers of stainless steel these bolster-less knives are created by forge welding two layers of repeatedly folded steel to a hardened inner cutting edge. Kasumi finish the blade with a resin-impregnated wooden handle riveted to the tang. Kasumi knives are incredibly sharp and beautifully balanced.
SHOP KASUMI KNIVES https://www.dennys.co.uk/catalogsearch/result/?q=Kasumi++Knives

I.O.Shen knives are handcrafted from Japanese Rockwell 61 steel blades which are protected by a Rockwell 10 outer layer, offering the ultimate cutting edge.
Shop I.O.SHEN KNIVES https://www.dennys.co.uk/catalogsearch/result/?q=I.O.Shen++Knives

Global Knives Created in 1985 the designer, Komin Yamada, came up with a new concept in kitchen knives. The revolutionary design of stainless steel handles and extremely sharp edges is now as global as the name, appealing to professional chefs and amateur cooks alike.
SHOP GLOBAL KNIVES https://www.dennys.co.uk/catalogsearch/result/?q=Global+Knives
AND NOW FOR SOMETHING COMPLETELY DIFFERENT….
We are proud to present a small range of knives made to order by multi award-winning blacksmith and artisan knife maker Leszek Sikon. We offer the Graphite Series in Nakiri, Gyuto and Petty. (Add images?)  Shop Leszek Sikon https://www.dennys.co.uk/shop-byproduct/knives.html?brand=Leszek+Sikon.  
Graphite Series Nakiri Knife

Ref No.

DM130C

Graphite Series Gyuto Knife Ref No.DM130B

 

 

Graphite Series Petty Ref No. DM130A

 
Best sellers
If you still do not know the best knife for you, below is a list of the best-selling knives (by volume). If you have any queries, don't hesitate to contact us by calling or visiting the store.
| | | |
| --- | --- | --- |
| Reference | Description | Brand |
| DM99A | Set of 3 knives | Soho knives |
| DZ79C | 4" vegetable serrated | Victorinox Fibrox |
| DZ80B | Pastry knife black fibrox | Victorinox Fibrox |
| DM99W | 10 Piece knife case | Soho Knives |
| DM99E | 4"/10cm vegetable serrated | Soho knives |
| DZ79A | 4" paring knife | Victorinox Fibrox |
| DZ78H | Rosewood 10" pastry knife | Victorinox Rosewood |
Retail Shop
62 Berners Street, London, W1T 3NN
0203 815 2900
Web/Mailorder
01372 377904
Phone lines open for ordering:
Mon - Fri: 9am – 5pm